The world of technology has been advancing with every passing day, and there have been several names which have been showing a major growth in the world of technology, one of the biggest of these names happens to be that of Google. The company has been releasing several technologies, the most popular of which happens to be their Nexus series of phones. Google's Nexus 5X and Nexus 6P are the latest of the Nexus devices which have helped lead the markets of technology. The phones are marvels of technological prowess. However, the latest name in the world of smartphone technology, the Nexus 5X has been reported to be quite a dangerous device by a user. A user of the phone has been claiming that the Nexus 5X bricked itself, and then it – wait for it – MELTED!
The image of the melted phone is as follows: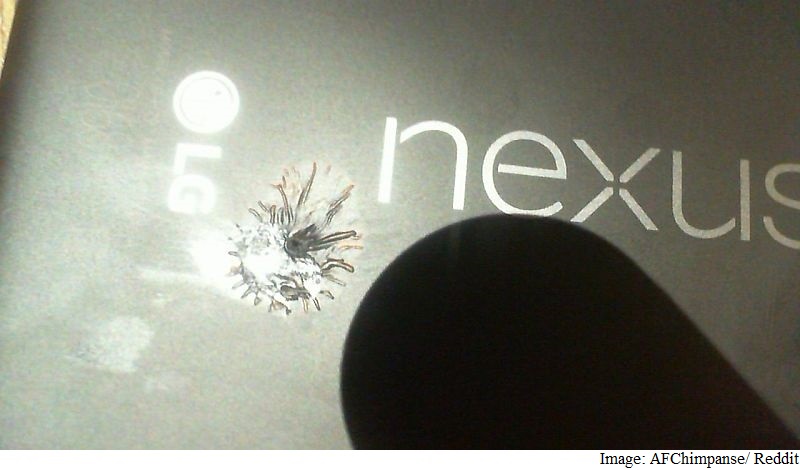 The user expressed his concern over the issue in a Reddit post, where he said that he "Was just standing outside when I suddenly felt it [Nexus 5X] heating up in my pocket, took it out super confused as I felt it heat up further. It then started to have a low frizzling sound and smelling extremely toxic. Then the entire phone became way too hot for me to hold and I had to put it on the ground. When I picked it up again noticed the hole/melted plastic pictured slightly above to the right of the LG Logo as pictured."
You can read the complete Reddit post HERE.
Several heating issues have been lined up in the past against the Google – LG Nexus 5X, but the Nexus 5X Bricked itself here, and then melted down! This is quite an alarming situation. The next time you find your Nexus 5X bricked, ensure you take it to a professional in time. One of the commenters in Reddit said that such a thing could happen because of the flaw in the battery. As of this writing there has been no comment from LG or Google over it.
Comments
comments