Off late, a trend has been observed in the world of technology. Companies are filing several lawsuits over violation of patents, and while they are quite relevant at times, some cases are just absurd. Microsoft has been a name which people would rarely ever associate with absurd decisions. However the company has surprised a large number of people as they have sued Corel over a recent violation of patent, on a slider design!  Samsung and Apple have been two companies which have been fighting a major court battle for several years now, and have been accusing each other of various allegations. However their battle continues over years, with no side coming to peace. The matter has now reached the Supreme Court of the United States.
Corel is the latest victim of a lawsuit over patent violation, as Microsoft claims that they have violated nine of their patents. Microsoft has notified the courts that several of Corel's applications such as Corel Calculate and Corel Write are using Microsoft's patented technologies. A software slider (as seen below) is being used by the company, which was patented by Microsoft.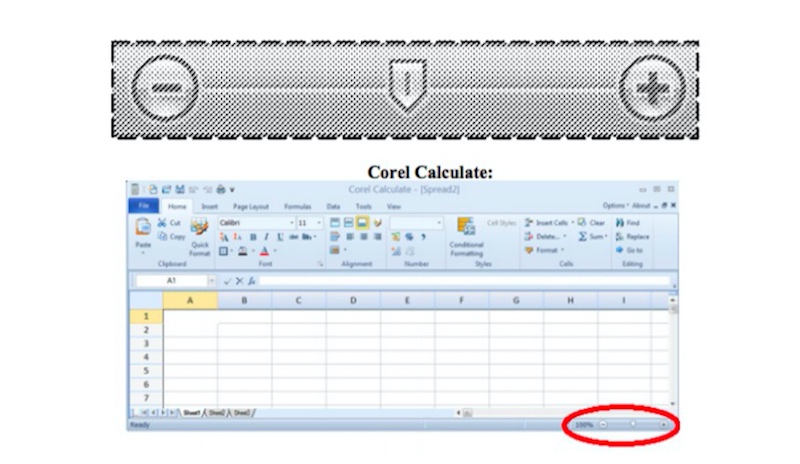 This slider basically helps the users zoom in and zoom out into a document quickly. If at all Microsoft is able to win this lawsuit, then the company will have to give all the profit that they made out of their Corel Home Office to Microsoft!
Microsoft has admitted that it is indeed a very simple patent, but also says that they didn't pick a fight. Corel had sued Microsoft in July last year over several of their patents. As per them, Microsoft had been using their 'RealTime Preview' feature which they designed in the 90s in their Microsoft Preview app. They also said that Microsoft has used Corel's own features to push out the Corel WordPerfect out of the markets.